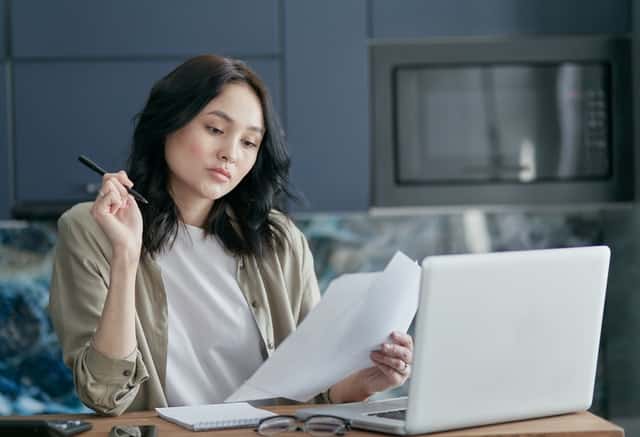 There are new rules coming into force for employers regarding the right to work scheme and it is important that you apply them.
From April 6th 2022, there are changes to Right to Work (RTW) for all UK employers and failure to follow these could result in a breach.
In this post, we are looking at the new version of the Home Office employer's guidance, due to come into effect shortly.
What is right to work

The changes

Biometrics and Frontier Worker Permits

Acceptable documents

Sponsored work and students

Identity Service Providers

Extension to the COVID-19 temporary adjusted right to work
What is right to work?
Under the Immigration, Asylum and Nationality Act 2006, all employers are required to ensure that their background checks ensure people they employ, whether on a permanent or temporary basis have the right to work in the UK.
This means that they need to carry out checks, both on the identity and the residency status of the person they wish to employ before they start work. Background checks such as BPSS checks have a right to work check as part of their process. 
In many cases, this is a simple matter of checking a legal document such as a UK passport but in the case of overseas nationals, this may mean checking their visa status.
Employers must ascertain that the person in front of them is the person they say they are and that they have the right to work otherwise severe penalties can be levied including up to 5 years in jail and an unlimited fine.
The changes
The UK government have introduced a number of changes to the legislation that comes into effect on the 6th April 2022.
In summary, these changes are;
Biometrics and Frontier Worker Permits – physical documents are no longer acceptable

Acceptable documents – removals and additions to the A & B lists

Sponsored work and students – Changes to working for students, sponsorships and work placements

Identity Service Providers – Digital IDSPs are now allowed

Extension to the COVID-19 temporary adjusted right to work – extension to 30th September 2022
Biometrics and Frontier Worker Permits
As of 6th April 2022, you can no longer carry out physical checks on Biometric Residence Cards, Biometric Residence Permits (BRC/BRPs) and Frontier Worker Permits (FWPs).
From this date, they will all need to be checked using the Home Office's own system which you can access here.
Currently, there are no other online methods of checking this.
You need to be aware that if you continue to carry out physical checks on these documents you will be in breach of the rules and penalties will apply.
Acceptable documents
There have been several changes to the lists of acceptable documents for identity and right to work checking.
The most notable is that BRC, BRP and FWP documents have been removed entirely, in accordance with the previous section.
As a result of the changes to digital checking a Certificate of Application (CoA) digital or non-digital confirming a valid application to the EUSS on or after 1 July 2021 together with a Positive Verification Notice (PVN) from the Employer Checking Service (ECS) is now included on the list.
Current documents issued by the Home Office to a family member of an EEA or Swiss citizen, which indicated that the holder had permission to stay in the United Kingdom have now been removed from the list.
List B, group 2, document no 3 now includes an application for leave to enter or remain under Appendix EU to the Isle of Man.
Sponsored work and students
There have been several changes to the entry routes for students.
The high potential route
The first change is the addition of the High Potential route. This allows recent graduates of top global universities to enter the UK to take up a position or to look for work provided they are able to support themselves.
The Scale-Up route
Skilled graduates can qualify for a fast-track visa if they are coming to work for an authorised scale up UK business.
This is part of the UK government's Plan for Growth and applicants must have a job offer before applying.
Innovator route
The innovator route, where people running or working in innovative businesses can obtain right to work has had an extension applied.
At the end of the visa, innovators had the possibility of being turned down for residency, meaning that they would have to leave the country with the disruption that this entails.
The changes allow Innovator visa holders to be granted further permission to stay by the Secretary of State at the end of their term.
Global talent route
There are several changes here including; exceptional promise applicants must be at an early stage in their career and evidence of exceptional talent or promise should cover achievements in the 5 years directly prior to the date of their application.
Identity Service Providers
In December 2021 the UK government announced its intention to make digital identity-checking available for employers and landlords.
This means that employers of all sizes and landlords, whether they be large housing associations or private individuals with just a single property can use a registered IDentity Service Provider (IDSP) to run their checks.
The process is being run jointly by the Department for Media Culture and Sport (DCMS) and the UK Home office and this forms part of the DCMS trust framework, called UK Digital Identity and Attributes Trust Framework (UKDIAT).
Although the digital system is not yet up and running, the April legislation makes it a legal possibility and Checkback is aiming to be one of the first organisations certified as an IDSP and to use this when it comes into being in the Summer of 2022.
Extension to the COVID-19 temporary adjusted right to work
Due to COVID-19, many passports and visas have expired with long waiting times to have these renewed. 
As COVID is an ongoing issue, the Home Office has extended the adjusted right to work scheme until 30th September 2022.
This will also ensure employers have sufficient time to develop commercial relationships with identity service providers so that they can then take advantage of IDVT.
Summary, employment and IDs are a moving target
In the latest raft of changes, we have seen the effect of not only COVID and political initiatives but also the move to digitisation.
This is a theme that we believe will continue, with legislation continually being changed and employers being expected to pick up the pieces!
Luckily Checkback is here to help. We've got our eye on any changes that are made to data protection, employment and background checking legislation so that our service is always up to date and compliant.
If you want a solution to your ID and background vetting and checking needs then fill in the form and let us show you how easy it can be.
If you'd like to see the full employer's guide with changes then click here.